PV2 David Conner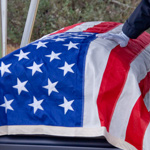 Unit: 10th Mountain, 57th Transport Company
Age: 19
Home Town: Huntington Beach, CA
Died On: 02/07/1993
Following in the footsteps of his father and half-brother, David J. Conner chose being a truck driver after he completed basic training at Ft. Leonard Wood, Missouri. David planned to pursue a career in architecture after leaving the Army.
Conner was fatally injured when his truck, carrying water on a resupply mission, crashed into a ravine in Somalia.
Tina Conner, wife of David and mother of his 5-month old son Brandon, was shocked when she heard the news as they thought he might be coming home soon.
David Conner was born in Santa Ana, California and graduated from Los Amigos High School. He received varsity letters in football and baseball.
Business Sharp LLC and Mogadishu Memories contributors © 2022, All Rights Reserved.