CPT David J. Mehlhop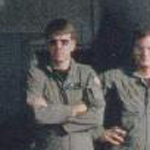 Unit: 16th Special Operations Squadron
Age: 30
Home Town: Zellwood, FL
Died On: 03/14/1994
Captain Dvaid J. Mehlop was a navigator on a Spectre gunship that crashed during a flight on the Somalia and Kenya border. He was killed along with seven other members of the Jockey 14 crew.
David graduated from Sachem High School, in Long Island, where he was a state champion swimmer. David later went on to obtain an engineering degree from the University of Virginia.
Friends described Mehlop as a quiet guy that had a mischievous streak. He was just a couple weeks away from returning back home.
Business Sharp LLC and Mogadishu Memories contributors © 2022, All Rights Reserved.