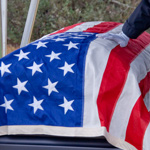 Unit: 101st Airborne, 101st Aviation
Age: 26
Home Town: Chicago, IL
Died On: 09/25/1993
SGT Eugene Williams, 26, loved flying and living the soldier's life. He died doing both when the Black Hawk helicopter he was traveling in was shot down Sept. 26 over Mogadishu.
"He kept his eye on the prize, and the prize was to be a soldier," the Rev. Thomas Jackson, Eugene Williams' long-time pastor, told the Associated Press.
He wore his first uniform as a member of an Explorer Scout troop, later, he would don an Army uniform and serve seven months in the Persian Gulf war as a helicopter mechanic. The second eldest of four, Eugene Williams grew up on Chicago's West Side and made his parents proud.
"He was dedicated," his father told the Associated Press. "It's not a consolation, but one thing that makes me feel better is he did some things that he wanted to do. The Army was his choice."