SGT Ferdinan C. Richardson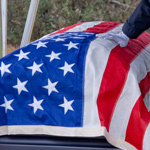 Unit: 10th Mountain, 25th Aviation
Age: 27
Home Town: Sunnymead, CA
Died On: 09/25/1993
Sgt. Ferdinan C. Richardson, 27, an intelligence analyst with the 10th Mountain Division's 10th Aviation Brigade, gave his life trying to protect his fellow soldiers from the threat of rocket-grenade launchers that were concealed by Somali militiamen in the back streets of Mogadishu.
Ferdinan Richardson, of Watertown, N.Y., was one of five soldiers who boarded a UH-60 Black Hawk helicopter on the night of Sept. 26 to investigate a report that launchers had been deployed near the new port area of the city.
As he scanned the area below, ground fire reached up to strike the fast-moving helicopter. The pilot managed to crash-land the Black Hawk in a street. Ferdinan Richardson, the door gunner and the crew chief were killed; the pilot and co-pilot were injured, but escaped the hostile mob that gathered at the crash site.
Business Sharp LLC and Mogadishu Memories contributors © 2022, All Rights Reserved.