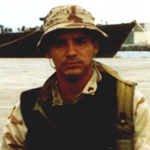 Unit: 75th Ranger Regiment, 3rd Battalion
Age: 27
Home Town: El Paso, TX
Died On: 10/03/1993
Sgt. Lorenzo M. Ruiz, 27, knew the potential peril of service as a Ranger, but he didn't scare easy. His brother, Jorge Ruiz, of El Paso, Texas, said his older brother "wouldn't back away from anything."
"He liked his job as a Ranger and he liked danger," Jorge Ruiz told Army Times after Lorenzo Ruiz's death in the Oct. 3 firefight. His actions during that clash earned him the Bronze Star for valor.
Lorenzo Ruiz indicated that he believed he was going to die in his last letter home. "He told me not to worry about him, and that the Rangers are the best," Jorge Ruiz said. "And he told me to take care of grandmother and my mother.
After his death, his mother Maria Contreras, told The Associated Press she was at peace. "He was over there doing what his country wanted him to do," she said.