SSG Michael Edward "Mike" Moser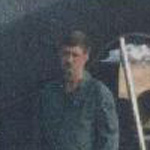 Unit: 16th Special Operations Squadron
Age: 32
Home Town: Mt. Ayr, IA
Died On: 03/14/1994
Mike Edward Moser served with the U.S. Air Force during the Gulf War as a gunner on AC 130H Hercules gunship. The gunship departed from Mombasa International Airport, Mombasa, Kenya, Africa, in support of Operation Continue Hope. Reportedly a 105mm shell exploxed in a gun barrell causing the airship to go down 200 feet off the coast in 10 to 15 feet of water. Eight of the 14 members of the crew died, including Mike who perished on March 14, 1994 while saving the lives of his fellow comrades from the fiery crash. He was 32-years-old.
Mike was interested in everything and was so easy to get along with. He was an expert roller skater and loved to snorkel and dive. Mike was proud to be a gunner and he was one of the best.
The men of Jockey 14 were flying missions over Somalia they considered routine, but they were't--these men just made it look easy. They were there to answer the calls for help from Americans on the ground--their presence alone ensured the safety of Americans in Mogadishu.
Business Sharp LLC and Mogadishu Memories contributors © 2022, All Rights Reserved.