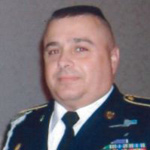 Unit: 10th Mountain, 2/14 Infantry (QRF)
Age: 50
Home Town: Erlanger, KY
Died On: 05/12/2010
SFC Ernest Ray Creech, Sr. had worked as a police officer for a number of years before entering the Army. Even though he was quite a bit older than most of his counterparts, Creech was able to keep up with the demands of being a light infantry soldier.
SFC Creech was a mortar infantry soldier who was assigned to HHC Company, 2nd Battalion, 14th Regiment, 10th Mountain Division (Light Infantry). He saw combat as part of the Quick Reaction Force (QRF) in Mogadishu, Somalia.
Creech was popular with the guys, especially in Somalia. He was to go-to-guy if you needed or wanted something. Creech had ways of appropriating just about anything while in Mogadishu. One time Tracy Karst told Creech, "Man, is there any way you can get a cold Dr. Pepper?" A few hours later, he came back from a convoy run with a case of cold Dr. Peppers. Creech liked being helpful and boosting the morale of the guys.
Creech had been in the Army, most recently as a recruiter, for 19 years. He was also a Mason, Shriner and a Kentucky Colonel. He passed after unexpected complications from minor surgery.
SFC Ernest Ray Creech, Sr. was awarded the Combat Infantryman Badge and Purple Heart in Somalia.