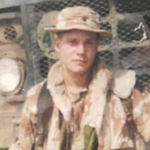 Unit: 10th Mountain, 2/14 Infantry (QRF)
Age: 38
Home Town: East Syracuse, NY
Died On: 02/27/2012
Tracy Karst was a lifetime resident of East Syracuse, NY and graduated from East Syracuse Minoa High School in 1991. Tracy joined the Army shortly after graduation and served from 1991 through 1999.
Tracy was very dedicated to his family and friends. He showed this by picking Fort Drum, New York so he could still be close to them while serving his country.
While in the Army, Tracy was assigned to the 2nd Battalion, 14th Regiment, 10th Mountain Division (Light Infantry). While with this unit, Karst participated in 1992 with the Hurricane Andrew relief efforts. He assisted in this effort by providing transportation and assistance around the area of Homestead, Florida.
In July 1993, Tracy was part of the advanced detachment to Mogadishu, Somalia as part of Operation Continue Hope. His group was tasked with getting things established for the arrival of the rest of the battalion. He was a member of the Quick Reaction Force (QRF) based at the University Compound in Mogadishu, Somalia. He responded to the Command Detonated Ambush on a convoy that killed four military police soldiers on their way to the airport. Karst was also part of the forces that engaged in battles fought on September 13th (to capture enemy forces), September 25th (recover downed Blackhawk helicopter), and October 3-4 (a.k.a. Battle of Mogadishu).
Shortly after returning from Somalia in December 1993, Karst was again deployed with the 2/14 as part of Operation Uphold Democracy. He was sent to Port-au-Prince, Haiti to provide security during this tumultuous period.
Tracy is survived by his wife Christine and daughter Brooke.
He was awarded the Combat Infantryman Badge for his actions in Mogadishu, Somalia.